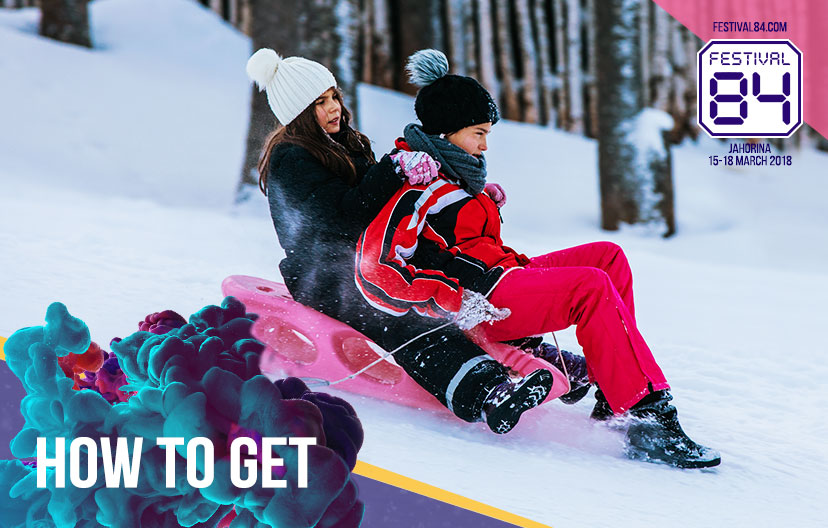 Depending on the city/town you are coming from, you can choose between the following modes of transport to Jahorina and back:
1. Coach and local shuttle
2. Taxi
3. Rent-a-car
1. COACH AND LOCAL SHUTTLE
Local shuttle transport from Sarajevo / Pale:
In cooperation with Centrotrans, the official Festival 84 travel company, we organized shuttle transport to take you from Sarajevo / Pale to Festival 84.
Festival shuttle transport from Sarajevo/Pale to Festival 84 will be organized on March 16th and 17th continually from 7:30 PM to 11:30 PM.
Departures from Sarajevo – Zemaljski muzej, address: Zmaja od Bosne 3, Sarajevo.
Travel time: about 45 min
Departures from Pale – there are several available locations: FAMOS parking, bus station, VBC cafe and old train station.
Travel time: about 25 min
Festival shuttle transport from Jahorina to Sarajevo and Pale will be organized on March 17th and 18th continually from 2:00 AM to 6:00 AM. The departure point is at the crossroads below the Košuta Hotel.
Price for Pale – Jahorina – Pale: 6KM (cca 3€).
Price for Sarajevo – Jahorina – Sarajevo: 9KM (cca 4.50€)
Shuttle transport has to be paid for at the departure point where you will get a return ticket. It is only possible to purchase return tickets.
Shuttle transport will circulate continuously from 8 PM to 11.30 PM to Olympic Main Stage and vice versa also continuously from 3 AM to 6 AM.
Stations:
Station 1 Tent (Peggy)
Station 2 Dobro Apartments
Station 3 Hotel Olymp
Station 4 Parking at the Kristal hotel
Station 5 Rajska dolina
Station 6 Hotel Termag/Vučko
Station 7 Hotel Board
Station 8 Crossroad under hotel Košuta
You should look for Centrotrans mini-buses. One-way ticket costs 2 KM and is sold by the driver.
Disclaimer: If you notice a mini bus outside of a station, feel free to stop it and if there is room – hop on!
Coach from Novi Sad/ Belgrade:
We organized transportation in one or both directions from the mentioned cities. For departure times and reservations click here.
Departures from Novi Sad – from the parking place near the restaurants Zlatna Medalja and Knin.
Departures from Belgrade – from the parking place at the Štark arena, across from the "ball".
Travel time: 5-6 hours.
Ticket prices range from 25€ for a return ticket.
Coach from other cities/countries:
If you are arriving to Festival 84 from another city/country, find all neccessary information on how to get to Sarajevo at this link. You can find details on transport from Sarajevo to Jahorina at the top of this section.
2. TRANSFERS / TAXI
Airport transfers
For a private transfer from Sarajevo airport to Festival 84 write to us on [email protected] or call us on +381 (0) 60 553 0902 and +381 (0) 21 310 8035.
Taxi
How to recognize a legal taxi driver? The picture below shows the exact look of taxi markings on a vehicle.

Taxi Sarajevo +387 (0) 33 660 666
Taxi Pale +387 (0) 57 340 200
3.RENT-A-CAR
Mula Mustafe Bašeskije 63, Sarajevo
Salke Lagumdžije 13, Sarajevo
Kurta Schorka & Aleja Bosne Srebrene, Sarajevo
ENTERPRISE Airport Station Sarajevo
Kurta Schorka 36, Sarajevo
Ravnogorska 81, Sarajevo
Car rental prices range from 35 € per day per vehicle.
USEFUL PHONES
Roadway status: +387 1282
Roadside assistance: +387 1285
Mountain rescue service: +387 66 636 636
IS PARKING PROVIDED AT THE FESTIVAL?
There is available parking on ten different locations for all visitors who plan on coming to the festival, provided by OC Jahorina. Due to a limited number of parking spot, as well as an expected traffic rush during the festival, we strongly advise visitors to use one of our organized transport options.
Parking is available at following locations:
ZONE I
1. Parking Poljice I
2. Parking Poljice above baby lift
Parking at these locations will be charged from 8 AM to 10 PM;
Parking daily ticket in Zone I costs 10KM.
ZONE II
3. Parking at the Six-person Skočine lift exit
4. Solana parking
5. Parking above Košuta apartment
6. Parking above Jahorina hotel
7. Parking from Vučiji bridge to Bistrica crossroad
8. Parking above Nebojša hotel
9. Parking space Ciljna kuća
10. Parking at the hotel Košuta entrance.
Parking at these locations will be charged during the whole day.
Parking daily ticket in Zone II costs 5KM.
You can buy a seasonal parking ticket for 45KM if you have an adult season ski pass (season and working day); Daily, weekly and monthly parking tickets can be bought at the parking entrance, while seasonal tickets are available in Bistrica hotel at the ski cash register.